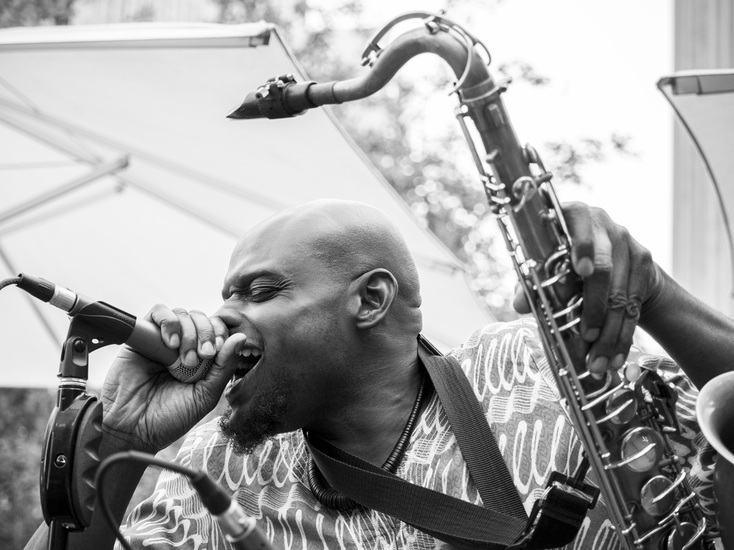 Chicago Magazine
Three Local Artists Respond to the Black Lives Matter Movement
Musician David Boykin, poet Phillip B. Williams, and artist Pauline Kochanski add their voices to the national conversation this fall.BY TOMI OBARO
PUBLISHED NOV. 6, 2015
Jazz musician David Boykin PHOTO: JOHN BROUGHTON
During the Civil Rights Movement, Richard Wright, Lorraine Hansberry, and James Baldwin responded to civil unrest with formidable, often definitive works of art. Continuing in that tradition, writers, musicians, and visual artists across the country are reacting to the spate of highly publicized killings of unarmed black people with an urgency that has yielded stellar results. Ta-Nehisi Coates wrote the critically acclaimed
Between the World and Me
, a fiery indictment of white supremacy in the form of a letter to his 15-year-old son. Kendrick Lamar released
To Pimp a Butterfly
, a sonically complex album that starts with the recurring refrain, "Every Nigga is a Star" and has netted the de facto protest song
"Alright."
New York visual artist Titus Kaphur has created
haunting paintings
, including one depicting protestors in Ferguson, Missouri. Minnesota poet Danez Smith included his poignant "Not an Elegy to Mike Brown" in his
book.
This fall, three Chicago artists add their own responses to the ongoing dialogue.
Phillip B. Williams Humboldt Park native
Phillip B. Williams
writes about the specter of black murder in his forthcoming book
Thief in the Interior
(January 12). The poet and
Chicago
contributor
uses both 20th-century lynchings and more contemporary examples of state-sanctioned violence as themes for several poems. "While two women kissed in their house I watched/ a jury hide bullets in a Black's boy's body, all rigormortis/and bass line," he writes in "Agenda."
Part of
Thief in the Interior
consists of a series of poems that home
in on the real-life murder of Rashawn Brazell
, a young, gay black man, who was brutally murdered in Brooklyn, New York in 2005. (His body was dismembered and the crime has never been solved.) The pieces confront racism and homophobia in a multitude of creative ways, including letters written to Rashawn's mother and a poem penned from the perspective of the duffel bag Brazell's body was found in. The result is tragic, beautiful, and rightfully unsettling.
David Boykin - For avant-garde South Side saxophonist David Boykin, his piece The Lynching of (insert the Name of Any White Killer of an Unarmed Black Here)offers a chance to address "the sadness, anger, and frustration in the black community right now," he says. "It's a story of two lovers who are activists in the movement for black liberation and the challenges that they face."

Arranged for a jazz quintet, a string quartet, a DJ, and two opera singers,The Lynching of is a mash-up of genres. St. Louis artist Damon Davis, whose sculptures of raised fists became one of the more indelible pieces of art in response to the Ferguson crisis, will also perform two musical numbers. (Boykin is raising funds to compensate the musicians here). "It's important for artists to respond to their environment if they feel compelled," says Boykin. "I feel compelled."
Pauline KochanskiIn Bucktown, Arc Gallery mounts
I Can't Breathe,
a group exhibition named after the famous last words uttered by Eric Garner, the unarmed New York man who died in a filmed struggle with police last summer. "I was thinking about what had happened in Ferguson, and how this has been going on in the country for a long time," says Kochanski, a Logan Square artist and the exhibition's creator. "The videos have forced us to address our ignorance and denial and so we wanted to take a look at what is institutionalized racism mean and how can artists speak to that."
As an all-volunteer gallery and nonprofit, Arc Gallery usually charges for submissions, but Kochanski and her other partners decided to waive the fee. "We want to have as broad a reach as possible," Kochanski says. The result has more than 100 submissions so far in a variety of media. The group also plans to host performances in conjunction with the exhibition as well as a panel discussion. "Artists can speak in a way that doesn't have the same didactic qualities that you might hear from people who are marching in the streets," Kochanski says. "It's really important that we take our anger out in a variety of different ways."
The Lynching of (Insert the Name of Any White Killer of an Unarmed Black Here)
runs Nov. 5 to 8 at Links Hall, 3111 N. Western Ave.; linkshall.com; $10 to $15
---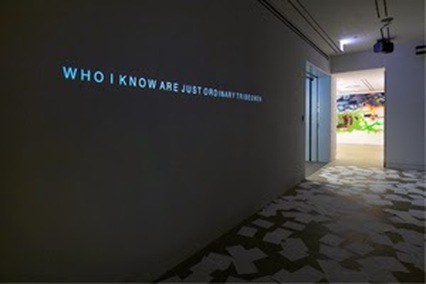 Sunday, August 17, 2014 U Chicago Exhibition: "Drone of Testimony: A Vigil Against US Drone Attacks (2014)"
Be sure to see (and hear and participate in) this exhibition at the University of Chicago - it runs through August 30, 2014.
"David Boykin's initiative Sonic Healing Ministries "believes in the power of sound/vibration to transform physical matter. Thought is a finer vibration that has the potential to shape the physical world, as our thoughts eventually manifest in the physical world." His project for the exhibition, Drone of Testimony: A Vigil Against US Drone Attacks (2014), produced in collaboration with the sound engineer Angel Elmore and the researcher Kasandra Skistad is a vigil against US military drone attacks. As the artist writes: 'The sonic drone that is created out of the testimony of US military drone attack survivors is a vigil against future attacks. Some people light a candle, we make a sound. Let there be a fire always burning, a song always sung, a sound always resonating until this madness stops. Let there be a Drone of Testimony till there are no more drone attacks.'"
The exhibition is part of the larger exhibition:
Testimony
.
Special events
:
Tuesday, August 19, 6:30-8:30 pm
Brian Terrill
leads a military drone teach-in
Logan Center, DelGiorno Terrace 305; rain location Logan Center, Seminar Terrace Room (801)
Wednesday, August 27, Logan Center Gallery, 6-7:30 pm
David Boykin
in conversation with
Nicole Mitchell
More about David Boykin:
David Boykin is one of the most original and dynamic artists in the Chicago music scene. He is a composer, bandleader, and multi-reed instrumentalist performing on the tenor and soprano saxophones, the soprano and bass clarinets, and the drum set. He has received many grants and awards for his talents as a composer. He is the leader of the David Boykin Expanse, founder of Sonic Healing Ministries, and an occasional collaborator with a few other artists. Boykin began studying music on the clarinet at the age of 21 in 1991 and first performed professionally in 1997. Since 1997 he has released 10 album-length recordings as a leader, contributed as a featured soloist to other musicians' recordings, and performed at major international jazz festivals and smaller jazz venues locally and abroad. As part of his residency, Boykin's Sonic Healing Ministries has been holding Free Jazz Jam Sessions, each Sunday at 2-5pm in his studio at the Arts Incubator in Washington Park.
---

Chicago's South Side Story From free-jazz jams to cheese-stuffed pretzels, Chicago's once-industrial area gets creative.
OCT 03, 2014 · BY ANDREW BRAITHWAITE | PHOTOS BY PETER HOFFMAN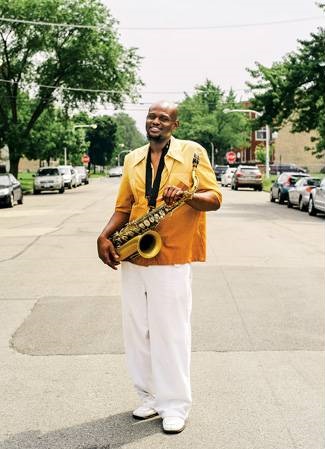 ...I soon learn that even the city's legendary jazz scene – it was at Bronzeville's mixed-race Sunset Cafe that jazz greats like Benny Goodman and Louis Armstrong created the famed "Chicago Sound" – is getting an update. Over in Washington Park, a modern bandleader named David Boykin is creating a new Chicago sound with his weekly Sonic Healing Ministries jam. As I enter the
Arts Incubator
, until recently an abandoned 1920s-era structure on Garfield Boulevard that the University of Chicago rescued with the help of artist-cum-community activist Theaster Gates, incense hangs in the air. Boykin, sliding across the wood floor in his socks, and his Microcosmic Sound Orchestra launch into a manic freestyle jam. I'm one of the first to arrive – it's just me and a girl in a blue satin dress reading We Can't Breathe, by local African-American novelist Ronald Fair – but soon a steady stream of curious interlopers wander in from the street and we all fill plates with free chips and guacamole.
Left to right: In addition to Dusek's, Thalia Hall houses a refurbished concert hall and the Punch House basement lounge; Washington Park residents Shawn McNeal and Anton Campbell strike a pose.
The Arts Incubator
, with its restored terracotta facade, features a big-windowed gallery space on the corner and studio space for rotating artists-in-residence, of which Boykin is one. I run into all sorts here today, from the actor Danny Glover to some more down-on-their-luck types, perhaps drawn by the free snacks. But Boykin's sound, which shifts character from sinuous to sweet and back again, eventually touches everyone. "Psychic healers, mystic travellers, march to the eastern sunrise and conjure a new reality," speaks the saxophonist Eliel Sherman Storey. A strange kid in a purple tunic and John Lennon glasses – he's been carefully sanding a collection of chicken bones for the past hour, and I decide not to pry for an explanation – stands up during one particularly frantic musical freak-out and begins twitching, like a man experiencing a religious tantrum. "That was like Armageddon and Revelations rolled into one," he whispers to me when the jam slows back down. I give him a nod back, my own little reciprocal amen.
---
DNA Info | Chicago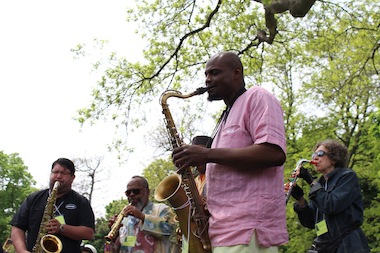 Sun Ra's 100th Birthday Celebrated With Sax Player Jam
By
Sam Cholke
| May 23, 2014 7:39am
@SamCholke
Twitter
Facebook
Email
More
Saxes for Sun Ra PerformanceDNAinfo/Sam Cholke
WASHINGTON PARK — Saxophonists gathered in Washington Park Thursday for a 30-minute long jam on "Happy Birthday" for Sun Ra.
"
Sun Ra
was a fixture in Washington Park at the Washington Park forum during his time in Chicago in the '50s," said saxophonist
David Boykin
, the organizer of the celebration for Sun Ra's 100th birthday in the park. "People espousing various religious, political and social views held court and Sun Ra was among them preaching and passing out leaflets of his own."
Boykin had
hoped to get 100 saxophonists
out on Thursday to honor the founder of "cosmic jazz" and a leader of the avant-garde jazz scene.
"I heard somewhere of a story of him doing this before: gathering 100 saxophones to play in the park," Boykin said of the idea.
He didn't quite get 100, but the 25 saxophonists who did come to the park enjoyed an a half-hour jam that started with a dissonant version of "Happy Birthday," before settling into a rolling groove as the players marched in circle near 53rd Street and King Drive.
"I could hear them, I don't know if they could hear me," joked Ernest Dawkins, who said he found his role holding down the core of the groove with an alto saxophone player and the conga player. "I tried to keep certain things going as far as momentum."
Dawkins said he got to see Sun Ra play in Chicago in the early 1970s during at a show opening for Miles Davis. He said the crowd was so anxious for Davis to come on as rain clouds rolled in that they were throwing light bulbs at Sun Ra's "arkestra."
Dawkins said Sun Ra stopped the band, glided to the front of the stage in his Egyptian robes, raised his hand and said stop. He said he remembers a bolt of lightning striking the amphitheater just as Sun Ra spoke.
He said he's never forgotten the power of Sun Ra in that moment and had to come out on Thursday and pay his respects.
The group played as dancers writhed in lavish costumes that were a nod to Sun Ra's interest in the occult and outer space.
The jam ended with all the players back on a small stage as a straining chord slowly resolved and the crowd of about 75 people cheered.